WordPress 5.0 With Gutenberg Is Here, Plus a Demo Video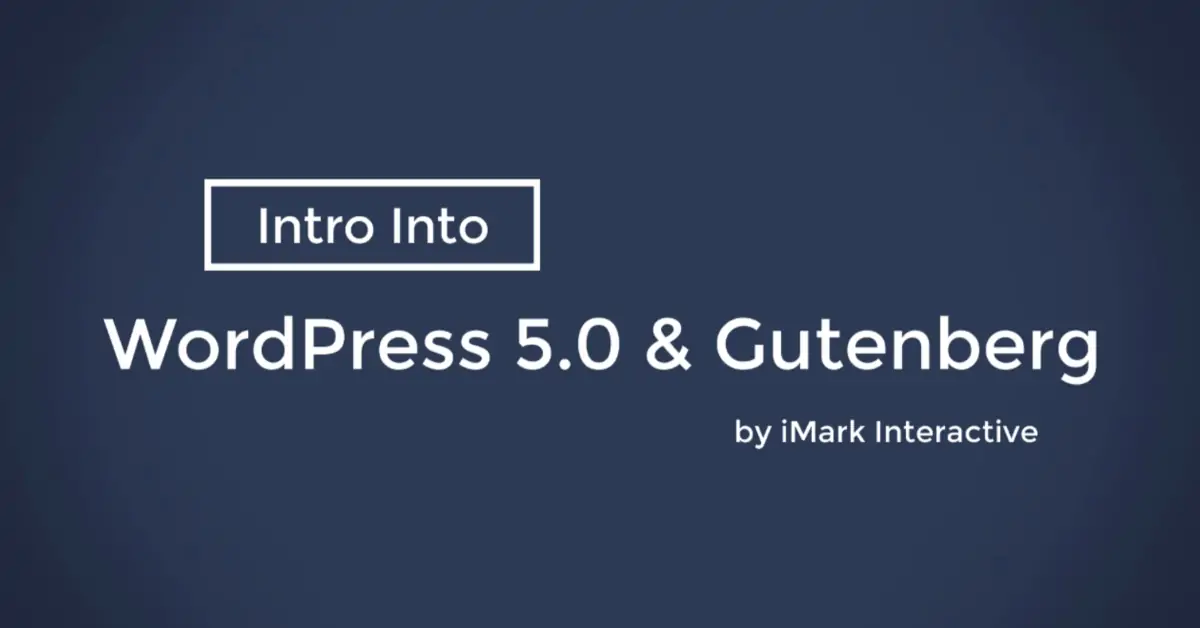 I'm sure you've heard about it, but now it is actually here!. That's right, WordPress 5.0, with the new Gutenberg editor was released to the world on December 6, 2018. This update is one of the biggest I've seen since I started on WordPress back in 2004. I'm excited and nervous at the same time. Big change often leads to panic. Don't let the fear paralyze you into not doing something about this. The sky is not falling!
If you're here just for the video about Gutenberg, you can check it out below.
Are you ready for Gutenberg?
We've been playing around with Gutenberg for about nine months now and while there are some bugs, we see the upside potential in it. It's not as bad as many say, but there will be a lot of bugs that still need to be fixed since they have released it.
If you haven't played with the new editor (nicknamed Gutenberg) yet, then I'd suggest you download the plugin or even try it out on this website. If you're used the the current editor, this will be a big change. You can see a little Gutenberg FAQ which WordPress put together to help answer some question.
There are many factors that go into play here since Gutenberg was released. Most of the issues that will come up will be due to plugins that mess with the post/page editor. Most themes are already compliant as they don't typically have issues with the editor. There is some word about page builders, but no one really knows how they will react.
I do know that Elementor (our favorite page builder) is ready for Gutenberg and has already released support for building blocks with it. They seem to be keeping up with the times and innovating. It's one of the reasons why we love that plugin. If you use WPBakery Page builder (used to be called Visual Composer), SiteOrigins, Thrive Architect, or the many others, make sure you ask them if they are going to be ready for WordPress 5.0 and the new editor.
What Are Your Options for Gutenberg?
Once you update to WordPress 5.0, the editor will switch over to Gutenberg. That's just what is going to happen. If you're not ready for this yet, then there are a few options.
Stay on WordPress 4.9.9
This version is stable and the current one as of this article. For our WordPress support plan customers, we almost never update a WordPress site with a huge release right at first. The reason is we've seen over the past 14 years that every release has bugs. We typically will wait for the sub-version to come out like 5.1 which will fix bugs. We feel this release will have even more bugs to fix due to the massive change. We will be waiting to push the 5.0 release until we see more data. This is also an option for you.
Install the Classic Editor
If you love to update to the newest software when it comes out, but you're not sure how nice Gutenberg will be with your site, then you can install the Classic Editor plugin that will stop Gutenberg from running on your site and will keep your editor as it looks and functions now. This plugin is free, so this is an easy option.
Stage Your Site
If you have a hosting plan that has a staging environment, this will be a great way to test your site with Gutenberg. You can install the Gutenberg plugin and try it out no your site without touching the live site. This is a great option. Ask your host for a staging site. If you don't have one, contact us and we can set one up for you for pretty cheap where you can test things to your heart's desire. I will encourage your to ask your host first though. Most budget hosts do not have this option.
Next Steps for WordPress
As someone who has been working in WordPress for a long time, I'm excited about the change. The current editor has always left a lot to be desired, especially for new bloggers and businesses owners trying to get onto WordPress. It was never truly a WYSIWYG (What You See Is What You Get) editor like they dreamed it up. Gutenberg helps out with this case, but also extends functionality to the editor to which we haven't really seen outside of page builders.
Will there be issues and bugs? You can guarantee it.
This is a huge change and it would be unwise to think nothing will go wrong. I have yet to see a major release in WordPress not have bugs, so I'd be highly surprised if this was bug free. I think there will be more.
The main thing you can do as a site owner and WordPress user is not panic. That would cause more issues and the sky is not falling. Yes, the editor is going to be different, but as it progresses and features are added, we will get used to it. As noted, I've been working in it for 9 months and like what I see. There are bugs, yes, but those will get ironed out. The extended functionality that will come later excites me.
Next Steps for You
If you haven't touched Gutenberg, now is the time to install it and try it out. If you can get a staging site setup for your site, then that would be ideal.
I would suggest holding off on the WordPress 5.0 update when it first comes out. Let some of the big bugs get ironed out after they release it and wait to do your own until 5.0.1 or later.
Get your backups setup now if you don't have them already. Backing up your site is your biggest insurance policy and many site owners think their hosts do it. Think again. Most hosts don't have reliable backups running, so take control. By the way, all of our support plans come with daily, offsite backups!
If you'd like more support on an ongoing basis, make sure to check out our WordPress support plans as we will take care of your site for this big update, along with all the other tech aspects that come with it. Think of it as insurance for your business and blog.
I'd also encourage you to ask questions. Send us an email or even better, go to our free Facebook group and ask there so it benefits more people.
Get ready for Gutenberg my friends. It's coming!

Here's the Gutenberg video I promised you!