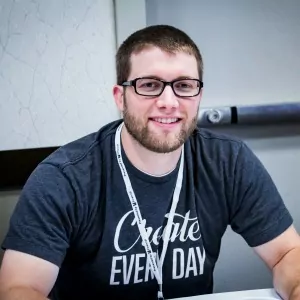 Welcome to iMark Interactive! My name is Grayson and I'm the founder and CEO of this company. I've been blogging for over 18 years on WordPress and it's a platform I enjoy using and supporting. I created this company after helping a number of bloggers with their sites, both with technical issues and design changes. WordPress and blogging are two of my passions, but helping people with issues is why we do what we do. We have a worldwide team of 7 highly skilled people who I'm glad are a part of the company.
We aren't just here to help you with WordPress. We want you to succeed in your business. Blogging and running on WordPress is not easy, but it can be if you have the right team behind you. That's why iMark Interactive is here.
Here's a little bit about me for those who are interested:
Coded my first e-commerce store with HTML, CSS, and PHP
Successfully transitioned that business to an Amazon store and then shut it down as it started affecting my health. E-commece businesses are hard work!
Taught myself how to use WordPress and then learned coding and how to effectively fix issues.
Married with two boys who are my pride and joy. While I love them, they can be a handful, but I work hard to support my family.
Love WordPress
Love helping people with problems
Have a degree in Marketing that I no longer use as I am self-employed!
Look, no matter what blogging platform you use, there will always be issues. You might have technical challenges, questions, or just need a little guidance. That's what we're here for. We not only support those on WordPress, we also try to give guidance and teach, so you can solve problems on your own later down the road. We feel that teaching people how to accomplish things can be more beneficial than just doing it for them. Having said that, we'll work with you in either capacity.
Make sure to checkout our Free WordPress course as well. It's a wealth of information!
What We Do
Here at iMark Interactive, we provide services to help those on WordPress. From our quick fixes to our monthly support plans, we're here to make sure your site is running smoothly, technical challenges are addressed, and that you can work on your business without having to worry about the technical aspects.
Beyond what other WordPress support companies provide, we are also here to provide guidance for your business. Remember, having been blogging for over 18 years, I have experience in email marketing, automation workflows, e-commerce, and many other aspects that bloggers face day in and day out.
When you work with me and the iMark Interactive team, you get that expertise and knowledge to help you bring your blog and business to the next level using WordPress.
We don't just fix WordPress, we also help you streamline your business!
Need Help or Have Questions?
iMark Interactive offers many services for bloggers and site owners. If you need technical help with WordPress, please don't hesitate to contact us. If you're not sure what service you need, just use the form below and ask. Chances are we can probably help you!
You can also use the form below to reach out.