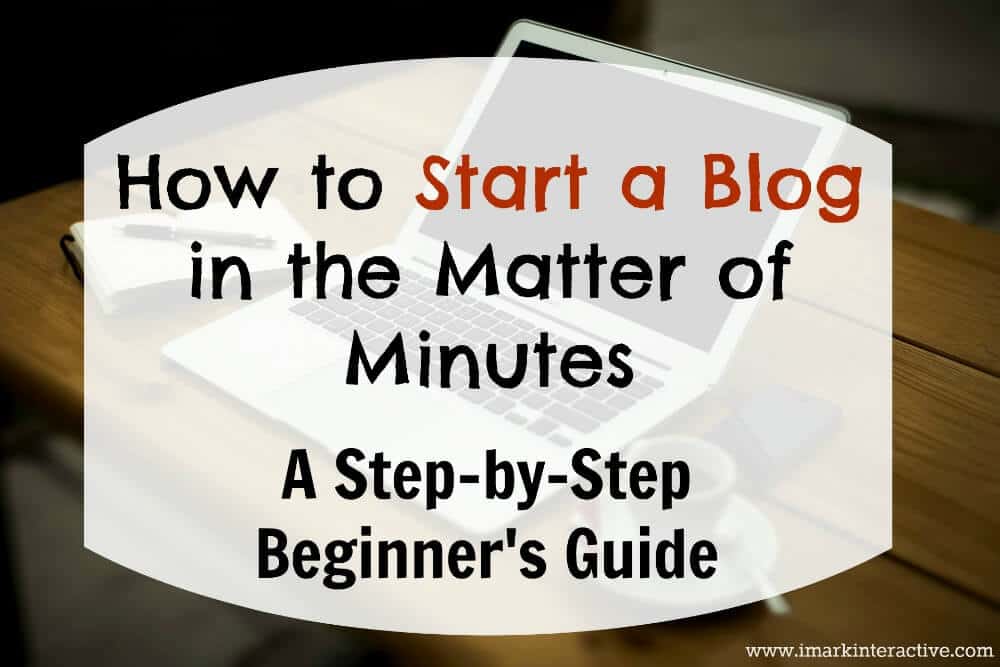 I've been blogging since the beginning of WordPress. It's been a long journey, but a great one. I've had a number of blogs ranging from consumer electronics, general tech, diy, and now personal finance. I love these topics and can talk about them on a regular basis. On the other end of the spectrum, I also love me some WordPress. It's the entire reason I own this company and help bloggers get started and stay blogging. It also part of the reason why I started managing blogs for other bloggers. I like getting my hands into code and figuring out problems.
The One Question…
Having done this for a long period of time, I've received a lot of questions about blogging. "How do you make money blogging?" "How do you create a static home page?" "Can I redirect this page to that easily?" These are just a few questions I get on a regular basis, but there is one I get constantly, almost every day.
How can I start a blog?
I absolutely love this question. Why? It opens up a new world to the person asking it. There are so many opportunities when blogging. While it can be hard to continue blogging for a long period of time, most people are surprised on what they can do with a blog. On top of that, blogs are slowly becoming the go-to resource for many people. We are getting tired of big media, so personal and brand blogs are popping up to fill in the need. Heck, even big companies are hiring bloggers to run their corporate blogs. It's great to see!
Since I've answered this question a number of times, I don't mind talking about it. Yes, it can get redundant, but I love talking about blogging and especially WordPress. While there are many free options out there like Blogger and WordPress.com, I use and recommend using self-hosted WordPress.org. This is a software you install on a domain (like myblog.com) that is hosted by a web hosting company (check out my resource recommendations).  This setup does cost money, about $50 a year, but it's totally worth it. I wouldn't have it any other way. Why?
WordPress Offers the Ultimate Solution
When you use a free service, you are bound by their terms and conditions. If you're blog doesn't follow their rules, they can shut it down and all of your time and energy would be wasted. Trust me, I've seen it a number of times with other customers. I don't like to put my hard work at risk like that.
Since WordPress.org is an open-source software, anyone can use it. You get to control what goes on it, how you display your site, and what plugins you can use. The possibilities are endless.  You'd be surprised how many of the large sites out there are actually run on a customized version of WordPress. It's a lot!
Since I'm a huge fan of open-source and flexibility, then I only recommend a self-hosted WordPress site for new bloggers. Yes, you do have to pay, but it gives you accountability. When people put money up for something, they tend to care a little more.
Related: Do you want to start a blog, but don't have time? Learn about my free blog installation and setup service.
My Step-by-Step Guide on Starting a WordPress Blog
I could create a giant tutorial (I probably will) about starting a blog, but figured it would be easier to create a video. This video shows me going through the entire blog installation and then some basic setup using HostGator (get one month of hosting for only $0.01). The process took me a little over 13 minutes, but that's because I had to include some explanations and I took it slower than I normally would. Typically, I can have a new blog installed and setup in the matter of minutes.
If you're looking at starting a blog, then check out the below step-by-step guide and hopefully you can get it done yourself. If you run into problems or just have questions, please contact me and I'll try to help. I wish you the best in your new blogging adventure!!
[video_player type="youtube" width="640″ height="360″ align="center" margin_top="0″ margin_bottom="35″]aHR0cHM6Ly93d3cueW91dHViZS5jb20vd2F0Y2g/dj1PUkNOTnZMRm1LWQ==[/video_player]
[button_1 text="Exclusive%20Offer!" text_size="33″ text_color="#ffffff" text_bold="Y" text_letter_spacing="2″ subtext_panel="Y" subtext="Get%20One%20Month%20of%20Hosting%20for%20Only%20%240.01%20with%20HostGator" subtext_size="15″ subtext_color="#ffffff" subtext_letter_spacing="0″ text_shadow_panel="Y" text_shadow_vertical="1″ text_shadow_horizontal="0″ text_shadow_color="#2b8bca" text_shadow_blur="0″ styling_width="40″ styling_height="25″ styling_border_color="#000000″ styling_border_size="1″ styling_border_radius="6″ styling_border_opacity="100″ styling_gradient_start_color="#2b8bca" styling_gradient_end_color="#2b8bca" drop_shadow_panel="Y" drop_shadow_vertical="1″ drop_shadow_horizontal="0″ drop_shadow_blur="1″ drop_shadow_spread="0″ drop_shadow_color="#000000″ drop_shadow_opacity="50″ inset_shadow_panel="Y" inset_shadow_vertical="0″ inset_shadow_horizontal="0″ inset_shadow_blur="0″ inset_shadow_spread="1″ inset_shadow_color="#2b8bca" inset_shadow_opacity="50″ align="center" href="http://www.imarkinteractive.com/go/hostgator-hosting/" new_window="Y"/]