New Pricing, Features, and Plan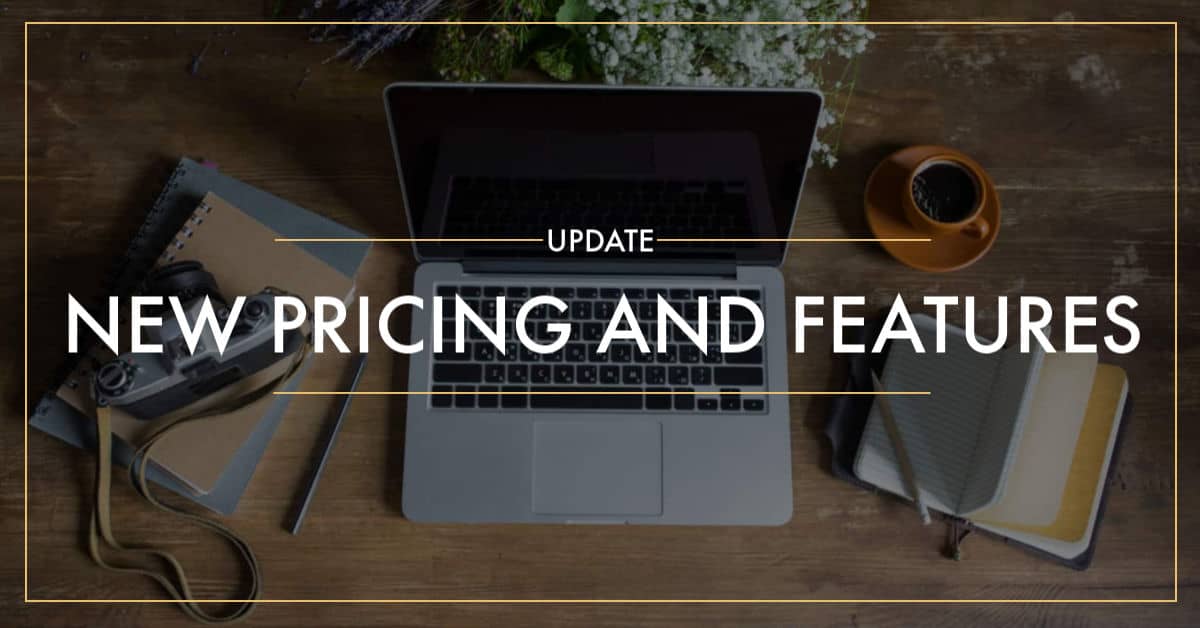 This is a hard post to write for us because we have worked very hard to keep our pricing low and attainable for any size business and blogger out there. We think we did a good job over the past couple of years, but it has caught up to us.
Let's be honest, no one likes to get an email from a company saying "we're increasing our prices, but you get the same service!"
That's why we aren't doing that because I know I hate when I get those emails or letters about new pricing with less features. Not our cup of tea here.
So, let me explain what we are doing here and why we did it.
Not on a monthly support plan yet? Check out our plans now or contact us for more information.
The Reason Behind the Price Increase
In the beginning of iMark Interactive, we kept things mean and lean. We were able to provide excellent service at a low price because we didn't spend a ton of money on marketing (actually none), nice offices, etc. We kept our expenses low in order to pass on great pricing to our customers.
We still follow that same setup now, but we have been growing exponentially over the past year. This growth has been great, but it also has forced us to hire more people to help with supporting all of our awesome customers.
As you may realize, it's hard to hire good people when you have really low prices. It's just a fact of business and one we had to look into heavily over these past few months in particular.
In order to provide the same great service our customers have come to appreciate, we needed to raise our prices to make it all work.
The Good News
Since I'm not fan of pushing up prices on people who have already paid, we made a decision to not do that. All of our current customers who are already on a monthly plan get to keep the same price they are paying.
We did this because we respect all of our customers and hate when companies do this. We don't want to be one of those companies, ever!
The new pricing is for new customers going forward.
New Additions to Existing Plans
Since we decided to raise our prices, we wanted to see what else we could offer on top of the excellent support we've been known for.
One great way was to add premium plugins available for all existing plan customers and those on Ready and up going forward. We have several that are already available, but are looking to add more to the mix in the coming months.
Here is what we have available for you now.
Social Pug Pro (because we have given up on Social Warfare)
Elementor Pro (awesome page builder and now has pop-ups)
WPRocket (great caching plugin)
Swift Pro (a great contender for caching plugin)
WP Portfolio Pro (excellent portfolio setup plugin)
On top of the premium plugins, we now provide access to the WPAstra theme, which is super fast, and all of these awesome demo theme setups.
In the next few weeks, we will also be releasing a new feature that allows you to look through our knowledge base and contact us right in your WordPress dashboard.
This means if you have a question, you can look through our articles (growing every day) for an answer or you can submit a support request right in the dashboard!
If you're a current customer and want one of these plugins, just submit a support ticket!
Announcing a New Plan
OK, since we built our business helping new bloggers and businesses, we didn't want to push them away with the new pricing. That's not just what we do here.
Because of this, we decided to launch a new plan called Insure.
This plan starts at $27 per month and provides daily backups, weekly WordPress updates, along with security and uptime monitoring.
It doesn't include any jobs like our other plans, but if any customer ever needs one, they can easily order a quick fix or have us do work on their site.
As with all of our plans, there is no contract and it is month-to-month. This allows for the ultimate in flexibility.
Before we sign off, we just wanted to say thank you to all of our current customers and those who recommend us. Without you, none of our business would be possible. So, thank you from the bottom of our tech-driven hearts!