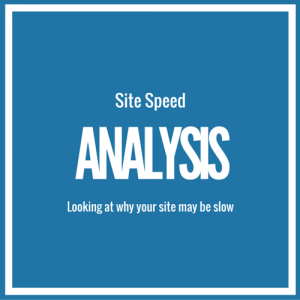 *Update – Due to the new Google page speed analysis, we are putting this service on hold. The reason is to achieve a better score in their system, most WordPress sites would need several hours of development and custom coding to make their site work with the new testing tool. We do not feel most sites can afford, nor actually achieve what they are looking for. We are looking into alternatives at this time.
Have you ever wondered why your site wasn't loading very fast? While there are many tools out there like Google Page Speed Analyzer and Pingdom, do you know how to use them and understand what you're looking at? I've helped sites go from 9 second load times to less than 1 second. I will analyze your site, read through the logs, and come up with an action plan to implement on your site. If you'd like to do the implementation, we can give you a quote
Remember, page speed is a ranking factor on Google and your visitors will leave your site quickly if it doesn't load. You need your site to load quick and efficiently.
You'll receive a PDF full of observations and suggestions based on what we find and how you can fix them. You can then let us know what you'd like us to solve and we can provide you with a quote.
This service does NOT fix your site speed issues. This just provides you with suggestions on what you can do to fix them.