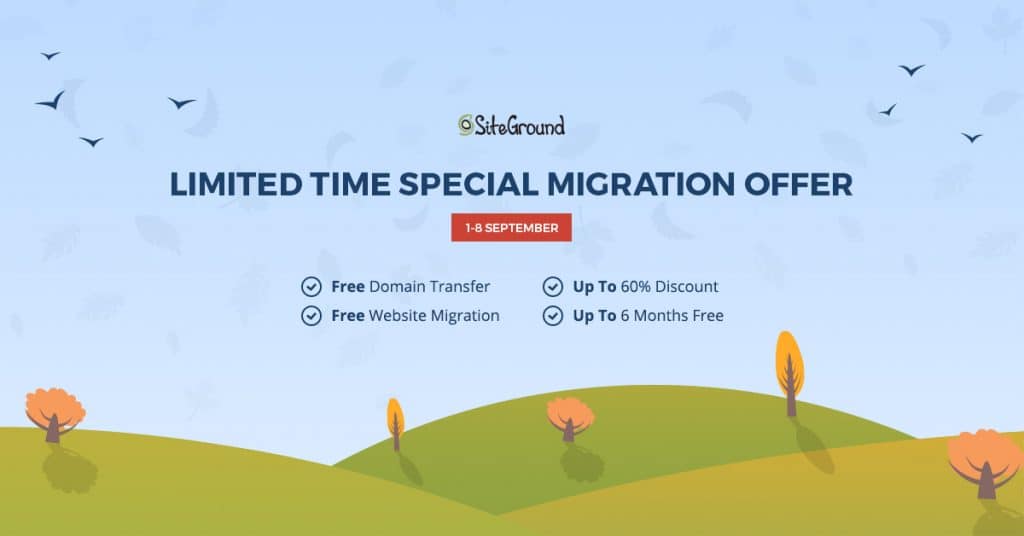 **UPDATE** SiteGround has decided to extend their migration deal until September 11th! They have compensated 17.5 years worth of hosting for new customers. Why not be one of them? Check them out!
Well, it's the beginning of a new month and the last one before fourth quarter starts up. Have you been having any website issues? For us, we've seen a huge issue with one of our least favorite hosts, Bluehost! Yes, they are at it again, but this time they are blaming their customers for the problems.
We were contacted earlier this week about a slow site. We fix slow sites regularly, but this one was different. You see, this customer had deactivated all plugins, changed to a default theme, yet Bluehost was saying the site was still slow due to their database. That's when they reached out to us.
We're already very skeptical of Bluehost and for good reason. They tend to have slow sites, bad support, and just an overall junk service. This is why we never promote them (not even to new bloggers) or any service owned by EIG. You can read more about that here. This situation didn't seem to be any different.
We quickly offered to test their site on one of our staging servers. Within 20 minutes, it was obvious the site was not to blame. We pushed the site onto our server, turned on all of the plugins, and didn't optimize anything. The only thing we removed was a line of code Bluehost adds to work their their old setups. The differences were immediate. No white screens, not database timeouts, nothing. The site was smooth, fast, and with no issues.
Within the hour, this customer moved over to SiteGround and he was happy he did. These are the stories we work hard for. These are what we want to hear. This is why we recommend a host like SiteGround over Bluehost.
Just wanted to give a HUGE shout out to Grayson Bell! His technical services came in handy BIG TIME for me. My main blog cashflowdiaries.com was having all kinds of issues mainly around latency and with Grayson's help, those days are over. As of right now, my site is now faster then it has ever been. So happy right now!
Thanks so much Grayson!! I owe you a beer or two!
If you're looking to move away from your host, today is your lucky day.
The SiteGround Migration Deal
Starting today (9/1/2016) through September 8th (now going through September 11th), SiteGround is putting on their biggest deal with a focus on migrations. They already are discounting their prices up to 60%, but now they want o make sure you're not waiting due to migration headaches.
The biggest holdup people have about moving web hosts is they think it will be difficult. From someone who does these regularly, you really have nothing to fear. Most migrations can be done quickly, with little issue, and you'll be on the other side with a happy face.
Even if you don't use us for migration, we always tell our customers that the hosts we recommend (including SiteGround) will do the migration for free. Some want us to take care of it, as we include testing, and a little more hand holding. We will even interact with SiteGround through the process if they want.
You should never be scared to move hosts because of the actual process. It's typically pretty easy and painless. SiteGround is one of the best at it.
So, why should you move to SiteGround?
Good question and one we have many answers for. Here are just a few:
Fast servers – SiteGround utilizes SSD in all their servers. This alone can account for 10x the speed over services like Bluehost.
Fast support – Have you ever waited on live chat with Bluehost or HostGator? Yeah, enjoy those times. SiteGround has an average wait time of 1.37 minutes in our tests over the course of 7 months we have been testing their suppor times. That's fast!
Good prices – While they do discount heavily upfront like other hosts, their service is well worth the cost without a discount. Trust us here, you get what you pay for.
Quality support – With chat and email support, you can easily get answers with SiteGround. They know WordPress well and will worth with you to figure out issues. (PS. if you work with us, you don't have to deal with SiteGround. You just talk with us and we can go figure out the issue)
OK, enough about them, what is their deal about?
They want to make it easy for you to switch and I've seen them in action. You don't have to worry about doing it yourself and there is no downtime with switching. This is a questions we get often. Switching hosts shouldn't involve downtime and it rarely does when you work with professionals.
Between today and September 8th 11th, you get a free migration, free domain transfer (with an added year of renewal), and up to 6 months compensation on your old hosting contract. This is the perfect time to move!
Here is the information they have provided:
SiteGround hosting accounts purchased between the promotion run dates of September 1st to September 8th come with the following additional benefits.

Free Website Migration

SiteGround will migrate one website to your new account free of charge. You can claim it in the getting started wizard upon your first login, or later by visiting the Support Tab in the User Area.

Free Domain Transfer

One free domain transfer can be claimed per account purchased during the promotional period, given that no free domain has been registered during sign-up. The domain transfer can be claimed by visiting the Add Services Tab -> Domain Transfer. It must be claimed by October 8th.

The free domain transfer must be for one of these tlds: .com, .net, .org, .biz, or .info. For clients from certain countries, the local country-specific domains may also be available for free.

Free Hosting For Early Switch

SiteGround will compensate up to 6 months of hosting time, matching the remaining term you have prepaid with your previous hosting provider.

The free hosting bonus must be claimed by October 8th.
The compensation is valid for shared hosting accounts with a plan length of 12 months or more.
The plan with your previous provider must have been purchased before September 1st, 2016.

Once you are a SiteGround customer, you can claim your free months by visiting Support Tab -> Billing Assistance -> Claim Promotional Hosting Bonus in your User Area. You will need to submit an acceptable form of proof for prepaid hosting services, which can be any of the following: credit card statement showing charge for annual billing; welcome email from the web hosting company showing start date and plan length; receipt showing start date and plan length; or, any other document showing the starting date and the period of the account.

Please allow up to 5 business days for our billing specialists to review compensation requests.
So, if you want to get a better host and be ready for the busy blogging season, head over to SiteGround today, sign up for an account, and tell them iMark Interactive sent you if they ask!
Oh, and enjoy the faster speeds!
We're also going to kick it up for our services too. If you want a site audit, we'll include optimizing your site for SiteGround's servers absolutely free. We usually charge $50 for this service. Just sign up for a Site Audit today.
Not sure if SiteGround is the host for you? That's OK. Go check out some of the hosts we recommend and find one that will work with your site needs. All of our recommendations provide free site migrations or work with us closely to make the process easy on you.
No matter what, don't let a bad host hold your site hostage. It's time to get to a better host!
---
Are you using WordPress? Want to learn more about it? Well, we're offering a free WordPress course that is coming out soon. If you're interested, use the form below to get on the waiting list, plus a free blogging bonus for your time. This course is going to be awesome!
Join Our Free WordPress Course Wait List
Our free "Understanding WordPress" course is about to open up. Be the first to know and to join by adding yourself to our waiting list. You'll also get a little freebie download as a thank you!